Pressure Vessels Fabrication - Overview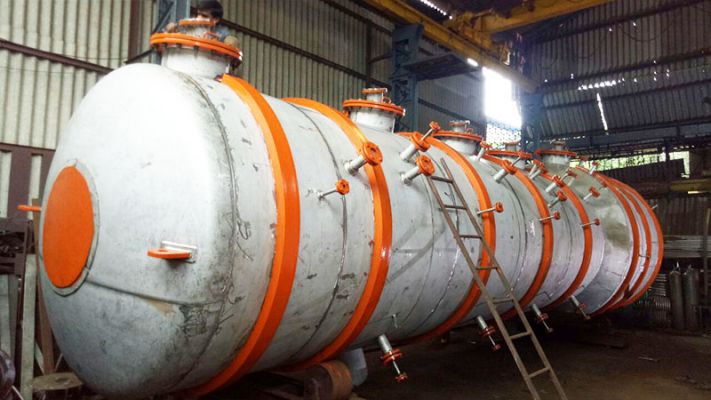 Pressure vessels are containers designed to hold gases or liquids at a pressure substantially different from the ambient pressure. Development and operation of pressure vessels require a high level of skills else they can be fatal. Hence manufacturing of pressure vessels is strictly controlled by jurisdictional regulations. The ASME Boilers and Pressure vessel code (BPVC) is universally applied.
Many pressure vessels are made of steel. To manufacture a cylindrical or spherical pressure vessel, rolled and possibly forged parts would have to be welded together. Some mechanical properties of steel, achieved by rolling or forging, could be adversely affected by welding unless special precautions are taken. In addition to adequate mechanical strength, current standards dictate the use of steel with a high impact resistance, especially for vessels used in low temperatures. In applications where carbon steel would suffer corrosion, special corrosion resistant material should also be used.
Ace Alloys LLP is a leading Stainless Steel Fabricator along with other materials like Alloy Steel, Carbon Steel and High Nickel Alloys. Ace Alloys LLP has implemented a large number complex stainless steel fabrication projects with precision. Ace Alloys LLP Fabricates Custom ASME Code Compliant Pressure Vessels, Heavy Duty Pressure Retaining Parts, Shells, Cylinders, Cones, Components and Tanks. Ace Alloys LLP use cost effective and highly reliable fabrication techniques makes us one of the most preferred vendor for custom steel fabrication services.
Pressure vessels are used in a variety of applications and sectors such as mining operations, oil refineries and petrochemical plants, nuclear reactor vessels, submarine and space ship habitats, pneumatic reservoirs, hydraulic reservoirs under pressure, rail vehicle airbrake reservoirs, road vehicle airbrake reservoirs, and storage vessels for liquified gases such as ammonia, chlorine, and LPG, diving cylinders, recompression chambers, distillation towers, pressure reactors, autoclaves etc.
Ace Alloys LLP can implement Pressure Vessel Fabrication as per the below standards.
ASME BPVC - Boiler and Pressure Vessel Code
EN 13445
BS 5500: Former British Standard
D Merkblätter: German standard
EN 286 (Parts 1 to 4): European standard for simple pressure vessels
BS 4994
ASME PVHO
CODAP: French Code for Construction of Unfired Pressure Vessel
AS/NZS 1200
AS/NZS 3788:2006
API 510
ISO 11439
You can get in touch with us for any Custom Stainless Steel Fabrication. Our experts will evaluate and provide the best solution for most cost effective pricing. Click here to contact us now!