Stainless Steel Pipe Reducer Types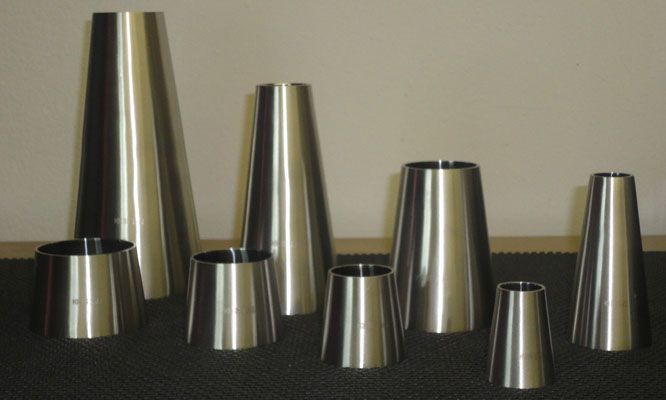 A pipe reducer is a major pipe fitting that is responsible for reducing the size of the pipe by decreasing the inner diameter. The length by which the pipe is reduced is roughly equal to the average taken of the inner and outer diameters. Stainless Steel is used in pipe reducers due to the corrosion resistance and their tolerance towards heat. Adding to this, they also have the high strength which can reduce the thickness of the material used for a particular application. Further, when they are alloyed with chromium and nickel, they provide enhanced properties and overall they are lightweight.
Stainless Steel Pipe Reducers, in short, alter the size of the pipe. The two major types of reducers used in the industry are the concentric and the eccentric type reducer.
Stainless Steel Concentric Reducers:
The concentric reducer is a component where the centre of both the ends of the larger diameter opening and the smaller diameter opening lies on the same axis. The centerline elevation of the line of the pipe is maintained. If the centre lines of the larger and the smaller pipes have to be maintained the same, this type of reducer is employed.
Stainless Steel Eccentric Reducers:
In this type of reducer, the centre lines of both the pipes lie on the separate axis. These reducers are also responsible for maintaining the bottom of the pipe elevation of a particular pipe. If either of the outside lying surfaces has to be maintained the same, this type of reducer is employed.
The offset of the reducer can be found out by finding out the difference between the larger inner diameter and the smaller inner diameter and dividing the value by 2.
Stainless Steel Swage Reducer:
The component is similar to reducers but is much smaller in sizes. They are employed in situations where the pipes have to be connected to smaller pipes which could be either socket welded or screwed welded. Similar to the reducers, even the swages are available in both the eccentric and concentric types. They also differ from each other in the types of the ends. Such as one component may have one plain end and one threaded end while the other might have both the ends as plain.
The main motive of stainless steel reducers is to decrease the size of the pipe in order to adhere to the requirements of flow in the system or to adjust to the pipe fitting size of the existing piping system. They are commonly manufactured in a variety of grades differing by inch sizes and metric sizes.
At Ace Alloys LLP, we have a complete range and vast inventory of Stainless Steel Pipe Reducer fittings that are available in a variety of sizes, shapes and specification depending on the project requirement of the client. If you want to buy this product you can contact us today and to avail a free, quick quote!