Stainless Steel Round Bars
ASTM A276 Bars, Rods, Wires / ASMI SA-276 Bars, Rods, Wires / SS Round Bars / SS Bars / SS Rods Suppliers
Stainless Steel Bar, Stainless Steel Forged Bar, Stainless Steel Black Bar, S.S. Bright Bar Manufacturer & Exporter. Stainless Steel Round Bars, Stainless Steel Square Bars, Stainless Steel Hex Bars, Stainless Steel Flat Bars.
ACE ALLOYS LLP is one of the renowned manufacturer and suppliers of Stainless Steel Round Bars and Round Rods, which gives the alloy outstanding resistance to oxidizing chemicals and to high - temperature oxidizing gases. Work hardening, precipitation hardening, and solid-solution hardening are performed for strengthening the super alloys.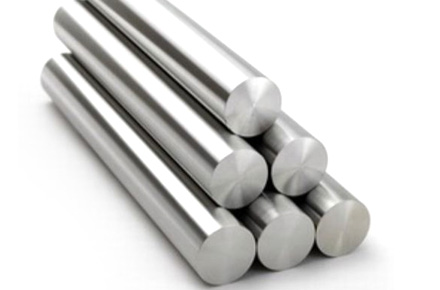 SS Round Bars offered by ACE ALLOYS LLP is often used in applications involving nitric acid or nitric – plus – hydrochloric acid, along with in high temperature burners, duct work, petrochemical heaters and furnaces. More recently, the alloy has the material of choice for metal dusting environments, which in conjunction has created an excellent engineering material for the latest designs of compact reformers as generation units.
SS Bars have excellent quality to fully satisfy customer's requirements. The alloy has excellent resistance to stress - corrosion cracking, where conventional machining techniques used for iron based alloys may be used. SS Rods offered by ACE ALLOYS LLP does work - harden during machining and has higher strength and "gumminess" not typical of steels. The alloy's resistance to sulphur - containing gases makes it an attractive material for such applications as coal - gasification units, burners and ducts for processing sulphuric acid, furnaces for petrochemical processing.
Stainless Steel Bright Bars has a relatively low work-hardening rate, but it can be cold worked to moderately high strength levels while maintaining ductility. ACE ALLOYS LLP also offer these Stainless Steel Rods in different sizes, shapes and designs as per customers' specifications at affordable rates.
Stainless Steel Bars / Rods / Wires Specifications:
| | |
| --- | --- |
| Standard | ASTM, ASME, AISI A276 , SA 276, A479, SA 479 |
| Range | 3.17 MM TO 350 MM DIA |
| Size Tolerance | h8, h9 (DIN 671), h10, h11,ASTM A484, DIN 1013 |
| Diameter | 25mm to 152 mm |
| Finish | Bright, Polish & Black |
| Form | Round, Square, Hex (A/F), Rectangle, Wire (Coil Form), Wire-mesh, Billet, Ingot, Forging Etc. |
| Condition | Cold Drawn & Polished Cold Drawn, Centreless Ground & Polished |
| Grade | ASTM / ASME SA 276 TP 304 , 304L , 309S , 309H, 310S , 316 , 316L , 316 TI , 317 , 321 , 347 , 410 , 420 , 430 ,431 , 440A ,B & C. , 446 |
| | ASTM / ASME SA 479 TP 304 , 304L , 304H, 309S , 309H, 310S , 310H , 316 , 316H , 316L , 316 TI , 317 , 321 , 321H , 347 , 347 H , 410, 430 ,431 & 444. |
Types of Stainless Steel Bars / Rods / Wires:
ASTM A276 Bars
ASTM A276 rolled flat bars
ASTM A276 Square bars
ASTM A276 Half Round Bars
ASTM A276 Hex Bar
ASTM A276 Flat Bar
ASTM A276 Rod
ASTM A276 Shaft Bar
ASTM A276 Hollow Bar
ASTM A276 Forged Bar
ASTM A276 Hot Rolled Round Bar
ASTM A276 Cold Rolled Round Bar
Stainless Steel Bars
Stainless Steel Rods
Stainless Steel Forged Round Bars
Stainless Steel Square Bars
Stainless Steel Hollow Bar
Stainless Steel Black Bars
Stainless Steel Threaded Bars
Stainless Steel Hexagon Bars
Stainless Steel Cold Drawn Bars
Stainless Steel Bright Bars
Stainless Steel Spring Steel Bars
Stainless Steel Hex Bars
Stainless Steel Wire
Stainless Steel Wire Bobbin
Stainless Steel Wire Coil
Stainless Steel Filler Wire
Stainless Steel Round Bar price list
Get the latest updated Stainless Steel Round Bar Price List. Use the contact button for Stainless Steel Round Bar Ready stock and price list.
Stainless Steel Bars / Rods / Wires Applications
| | | | |
| --- | --- | --- | --- |
| Off-Shore Oil Drilling Companies | Power Generation | Petrochemicals | Gas Processing |
| Specialty Chemicals | Pharmaceuticals | Pharmaceutical Equipment | Chemical Equipment |
| Sea Water Equipment | Heat Exchangers | Condensers | Pulp & Paper Industry |
Stainless Steel Bars / Rods / Wires Manufacturer & Supplier
Stainless Steel Bars / Rods / Wires manufacturer in india
Stainless Steel Bars / Rods / Wires supplier in india
Stainless Steel Bars / Rods / Wires manufacturer in Mumbai
Stainless Steel Bars / Rods / Wires manufacturer in Pune
Stainless Steel Bars / Rods / Wires supplier in Chennai
Stainless Steel Bars / Rods / Wires manufacturer in Hyderabad
Iran, Argentina, Colombia, Mexico, Africa, Houston, Brazil, Tunisia, Kazakhstan, Vietnam, London, Trinidad and Tobago, Kuwait, Canada, Iraq, Sudan, Israel, Azerbaijan, Turkey, Egypt, Australia, Dubai, Chine, United States, Italy, Saudi Arabia, UAE, Malaysia, Sri Lanka, Nigeria, South Africa, Peru, Indonesia, UK, Germany, Bahrain, New Zealand, Thailand (Bangkok), Jordan, Russia, Venezuela, Ethiopa, Ghana, Uganda, Cameroon, Algeria, Morocco, Mozambique, Angola, Qatar, Yemen, Oman, Lebanon, Cyprus, Johannesburg, Brazzaville, Cairo, Maputo, Lagos, Douala, Tripoli, Mogadishu, Khartoum, Port Harcourt, Antananarivo, Port Elizabeth, Kano, New York, Abu Dhabi, Dar es Salaam, Benin, Kampala, Luanda, Conakry, Rabat, Bulawayo, Cape Town, Alexandria, Fez, Ouagadougou, Mbuji-Mayi, Soweto, Singapore, Dakar, Omdurman, Hong Kong, Zaria, Lubumbashi, Kinshasa, Harare, Abidjan, Yaoundé, Addis Ababa, Giza, Algiers, Accra, Colombo, Kaduna, Maiduguri, Nairobi, Casablanca, Pretoria, Kolwezi, Subra al-Haymah, Durban, Freetown, Bamako, Ibadan, South America, Austalia, Austria, Bangladesh, Mozabique, Myanmar, Netherland, Phillipine, Spain, Jordon.
Bangalore, Hyderabad, Ahmedabad, Chennai, Suryapet, Jamalpur, Bhiwadi, Ballia, Ambala, Sadar, Udgir, Miryalaguda, Bansberia, Mumbai, India, Maharashtra, Delhi, Karnataka, Andhra Pradesh, Kerala, Tripura, Benin, Puducherry, Mizoram, Manipur, Tadepalligudem, Betul, Nagapattinam, Bundi, Baraut, Buxar, Muktsar, Kolkata, Surat, Pune, Jaipur, Lucknow, Kanpur, Nagpur, Indore, Thane, Bhopal, Visakhapatnam, Pimpri and Chinchwad, Patna, Vadodara, Ghaziabad, Ludhiana, Agra, Nashik, Faridabad, Meerut, Rajkot, Gujarat, Tamil Nadu, West Bengal, Gujarat, Bihar, Rajasthan, Uttar Pradesh, Punjab, Haryana, Madhya Pradesh, Jharkhand, Chhattisgarh, Assam, Chandigarh, Orissa, Kalyan, Dombivali, Vasai, Coimbatore, Jabalpur, Gwalior, Vijayawada, Jodhpur, Madurai, Bhadreswar, Kasganj, Kalyani, Nagaur, Port, Blair, Datia, Hinganghat, Banswara, Nagda, Raipur, Kota, Guwahati, Solapur, Hubli and Dharwad, Virar, Varanasi, Srinagar, Aurangabad, Dhanbad, Amritsar, Navi Mumbai, Allahabad, Ranchi, Haora, Ulhasnagar, Jhansi, Kolapur, Ajmer, Akola, Durgapur, Nanded, Gorakhpur, Belgaum, Mangalore, Ambattur, Tirunelveli, Saharanpur, Guntur, Bikaner, Amravati, Kurnool, Bhavnagar, Dehradun, Asansol, Waghala, Gulbarga, Jamnagar, Ujjain, Loni, Siliguri.