Inconel 800H Round Bar Manufacturer
Inconel 800H Round Bars, ASTM B408 Inconel 800H Bright Bar, Incoloy UNS N08810 Hex Bars, Alloy 800H Square Bars, Incoloy 800H Flat Bars, Inconel UNS N08810 Forged Bars, Inconel Alloy 800H Hot Rolled Bars Stockist & Exporter
Manufacturer & Supplier of Inconel Alloy 800H Round Bars, Incoloy 800H Round Bars, Alloy 800H Round Rods in India
A typical Inconel 800H Round Bars is a combination of various metal components like iron, nickel, and chromium. ACE ALLOYS LLP is highly engaged in manufacturing and supplying a wide variety of Incoloy Alloy 800H Round Bars and Alloy 800H Round Bars.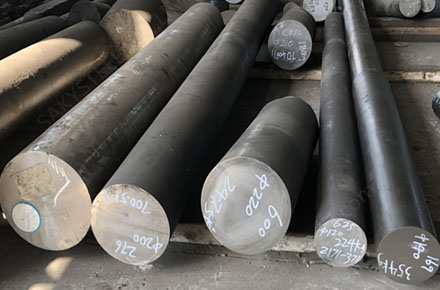 ASTM B408 Incoloy 800H Round Bars exhibits exceptional resistance towards hazardous carburization and oxidation even at elevated temperatures. We fabricate RA 800H Round Bars in such a way that they possess considerable creep rupture toughness. Our Incoloy 800H Forged Round Bars and Incoloy 800H bright bars stay stable at those environments where sulfuric acids have huge impact.
Our Incoloy 800H hex bars and Incoloy 800H flat bars, Inconel 800H square bars are immune to corrosions which are caused due to harmful acids. For their distinguished properties, our Incoloy 800H Threaded Bars are deployed in heat exchangers and pressure vessels. On the other hand, our Incoloy 800H threaded bars are employed in heat treating machinery, chemical, and petrochemical processing industries.
Inconel 800H Polished Round Bars are widely used in heaters and re-heaters of power plants. Our Inconel 800H rectangular bars and Inconel 800H round bars are widely used in Ethylene furnace quench boilers. We use high quality raw material to produce Incoloy 800H cold drawn bars for which they stay stable and long lasting.
All the details about Inconel 800H round bars specifications and grades of our all types of grades Inconel round bars is available in our official website. Our team is patient and gentle in approach towards your queries. Contact us at any time and enjoy our services.
Incoloy DIN 1.4958 Round Bars, Inconel 800H Cold Drawn Bars, Incoloy Alloy 800H Rectangular Bars, ASTM B408 Alloy 800H Black Bar, JIS / SUS Inconel 800H Threaded Bars, 800H Inconel Cold Finished Bars, Inconel 800H Polished Round Bars Dealer & Wholesaler
Inconel 800H Bars, Rods and Wires Availability:
Inconel 800H Round Bars
Inconel 800H Forged Round Bars
Inconel 800H Square Bars
Inconel 800H Black Bars
Inconel 800H Hex Bars
Inconel 800H Cold Drawn Bars
Inconel 800H Bright Bars
Inconel 800H Rods
Inconel 800H Wire
Inconel 800H Spring Steel Bars
Inconel 800H Wire Bobbin
Inconel 800H Threaded Bars
Inconel 800H Hollow Bar
Inconel 800H Wire Coil
Inconel 800H Hexagon Bar
Inconel 800H Round Bar Specifications:
| | |
| --- | --- |
| Specifications | ASTM B408 / ASME SB408 |
| Dimensions | EN, DIN, JIS, ASTM, BS, ASME, AISI |
| Size | 5 mm to 500 mm |
| Diameter | 0.1 mm to 100 mm |
| Grade | H8, H9, H10, H11, H12, H13K9, K10, K11, K12 or as per clients' requirements |
| Finish | Black, Bright Polished, Rough Turned, NO.4 Finish, Matt Finish, BA Finish |
| Length | 100 mm To 3000 mm Long & Above |
| Form | Round, Square, Hex (A/F), Rectangle, Billet, Ingot, Forging Etc. |
Grade of Inconel 800H Round Bar
| | | | | | | | |
| --- | --- | --- | --- | --- | --- | --- | --- |
| STANDARD | WERKSTOFF NR. | UNS | JIS | BS | GOST | AFNOR | EN |
| Inconel 800H | 1.4958 / 1.4876 | N08810 | NCF 800H | NA 15(H) | ЭИ670 | Z8NC33-21 | X5NiCrAlTi31-20 |
Chemical Composition of Inconel 800H Round Bar
| | | | | | | | | | |
| --- | --- | --- | --- | --- | --- | --- | --- | --- | --- |
| Grade | C | Mn | Si | Al | S | Cr | Cu | Ni | Fe |
| Incoloy 800H | 0.05 – 0.10 | 1.50 max | 1 max | 0.15 – 0.60 | 0.015 max | 19 - 23 | 0.75 max | 30 - 35 | 39.5 min |
Mechanical properties of Inconel 800H Round Bar
| | | | | |
| --- | --- | --- | --- | --- |
| Density | Melting Point | Tensile Strength | Yield Strength (0.2%Offset) | Elongation |
| 7.94 g/cm3 | 1385 °C (2525 °F) | Psi – 75,000 , MPa – 520 | Psi – 30,000 , MPa – 205 | 30 % |
Types of Inconel Alloy / Incoloy 800H Round Bar
Incoloy 800H Bright Bar
800H Incoloy Bright Bars
Incoloy Alloy 800H Bright Bar
UNS N08810 Incoloy Bright Bar
WERKSTOFF NR. 1.4876 Bright Bar
ASTM B408 800H Incoloy Bright Bar
Inconel 800H Hex Bar
800H Incoloy Hexagonal Bars
800H Incoloy Alloy Hex Bar
UNS N08810 Incoloy Hexagonal Bar
ASTM B408 800H Incoloy Hex Bar
Incoloy 800H Square Bar
800H Incoloy Square Bars
800H Incoloy Flat Bars
UNS N08810 Incoloy Flat Bars
800H Incoloy Alloy Square Bar
UNS N08810 Incoloy Square Bar
WERKSTOFF NR. 1.4876 Square Bar
800H Incoloy Alloy Flat Bars
WERKSTOFF NR. 1.4876 Flat Bars
ASTM B408 800H Incoloy Flat Bars
Incoloy 800H Rectangular Bar
800H Incoloy Rectangular Bars
Incoloy 800H Polished Bar
800H Incoloy Polished Bars
800H Incoloy Alloy Polished Bar
UNS N08810 Incoloy Polished Bars
WERKSTOFF NR. 1.4876 Polished Bar
ASTM B408 800H Incoloy Square Bars
800H Incoloy Alloy Rectangular Bar
UNS N08810 Incoloy Rectangular Bars
WERKSTOFF NR. 1.4876 Rectangular Bar
Incoloy 800H Flat Bar
ASTM B408 800H Incoloy Rectangular Bar
ASTM B408 800H Incoloy Polished Bar
Incoloy 800H Threaded Bar
800H Incoloy Threaded Bars
800H Incoloy Alloy Threaded Bar
UNS N08810 Incoloy Threaded Bar
WERKSTOFF NR. 1.4876 Threaded Bar
ASTM B408 800H Incoloy Threaded Bar
For Inconel 800H Round Bar price list as on :
Request the latest Inconel 800H Round Bar Price List. Use the contact button below for Inconel 800H Round Bar Ready stock information and updated price list.
Inconel 800H Round Bars Applications
| | | | |
| --- | --- | --- | --- |
| Off-Shore Oil Drilling Companies | Power Generation | Petrochemicals | Gas Processing |
| Specialty Chemicals | Pharmaceuticals | Pharmaceutical Equipment | Chemical Equipment |
| Sea Water Equipment | Heat Exchangers | Condensers | Pulp & Paper Industry |
Inconel 800H Round Bars Manufacturer & Supplier
Inconel 800H Round Bars manufacturer in india
Inconel 800H Round Bars supplier in india
Inconel 800H Round Bars manufacturer in Mumbai
Inconel 800H Round Bars manufacturer in Pune
Inconel 800H Round Bars supplier in Chennai
Inconel 800H Round Bars manufacturer in Hyderabad
Iran, Argentina, Colombia, Mexico, Africa, Houston, Brazil, Tunisia, Kazakhstan, Vietnam, London, Trinidad and Tobago, Kuwait, Canada, Iraq, Sudan, Israel, Azerbaijan, Turkey, Egypt, Australia, Dubai, Chine, United States, Italy, Saudi Arabia, UAE, Malaysia, Sri Lanka, Nigeria, South Africa, Peru, Indonesia, UK, Germany, Bahrain, New Zealand, Thailand (Bangkok), Jordan, Russia, Venezuela, Ethiopa, Ghana, Uganda, Cameroon, Algeria, Morocco, Mozambique, Angola, Qatar, Yemen, Oman, Lebanon, Cyprus, Johannesburg, Brazzaville, Cairo, Maputo, Lagos, Douala, Tripoli, Mogadishu, Khartoum, Port Harcourt, Antananarivo, Port Elizabeth, Kano, New York, Abu Dhabi, Dar es Salaam, Benin, Kampala, Luanda, Conakry, Rabat, Bulawayo, Cape Town, Alexandria, Fez, Ouagadougou, Mbuji-Mayi, Soweto, Singapore, Dakar, Omdurman, Hong Kong, Zaria, Lubumbashi, Kinshasa, Harare, Abidjan, Yaoundé, Addis Ababa, Giza, Algiers, Accra, Colombo, Kaduna, Maiduguri, Nairobi, Casablanca, Pretoria, Kolwezi, Subra al-Haymah, Durban, Freetown, Bamako, Ibadan, South America, Austalia, Austria, Bangladesh, Mozabique, Myanmar, Netherland, Phillipine, Spain, Jordon.
Bangalore, Hyderabad, Ahmedabad, Chennai, Suryapet, Jamalpur, Bhiwadi, Ballia, Ambala, Sadar, Udgir, Miryalaguda, Bansberia, Mumbai, India, Maharashtra, Delhi, Karnataka, Andhra Pradesh, Kerala, Tripura, Benin, Puducherry, Mizoram, Manipur, Tadepalligudem, Betul, Nagapattinam, Bundi, Baraut, Buxar, Muktsar, Kolkata, Surat, Pune, Jaipur, Lucknow, Kanpur, Nagpur, Indore, Thane, Bhopal, Visakhapatnam, Pimpri and Chinchwad, Patna, Vadodara, Ghaziabad, Ludhiana, Agra, Nashik, Faridabad, Meerut, Rajkot, Gujarat, Tamil Nadu, West Bengal, Gujarat, Bihar, Rajasthan, Uttar Pradesh, Punjab, Haryana, Madhya Pradesh, Jharkhand, Chhattisgarh, Assam, Chandigarh, Orissa, Kalyan, Dombivali, Vasai, Coimbatore, Jabalpur, Gwalior, Vijayawada, Jodhpur, Madurai, Bhadreswar, Kasganj, Kalyani, Nagaur, Port, Blair, Datia, Hinganghat, Banswara, Nagda, Raipur, Kota, Guwahati, Solapur, Hubli and Dharwad, Virar, Varanasi, Srinagar, Aurangabad, Dhanbad, Amritsar, Navi Mumbai, Allahabad, Ranchi, Haora, Ulhasnagar, Jhansi, Kolapur, Ajmer, Akola, Durgapur, Nanded, Gorakhpur, Belgaum, Mangalore, Ambattur, Tirunelveli, Saharanpur, Guntur, Bikaner, Amravati, Kurnool, Bhavnagar, Dehradun, Asansol, Waghala, Gulbarga, Jamnagar, Ujjain, Loni, Siliguri.