Copper Nickel Alloy Buttweld Fitting Manufacturer
ANSI B 16.9, ASME B 16.28, MSS-SP-43 Cupro Nickel Butt Weld Fittings, Copper Nickel C71500 / C70600 Buttweld Fittings, Cupro Nickel Alloy Elbow Fittings, Copper Nickel Buttweld Pipe Tees, Copper Nickel Werkstoff nr. 2.0872 End Cap Fittings Stockist & Exporter
Manufacturer & Supplier of Cupro Nickel 90/10 Buttweld Fittings, Cu-Ni 70/30 Butt Weld Pipe Fittings in India
Cupro Nickel Buttweld Fittings are vital industrial necessities which have huge demand in the market. Among many Copper Nickel Buttweld Pipe Fittings Suppliers and Manufacturers in the current market, ACE ALLOYS LLP is a renowned one. We have an exceptional collection of Cupro Nickel Buttweld Fittings of all sizes and shapes.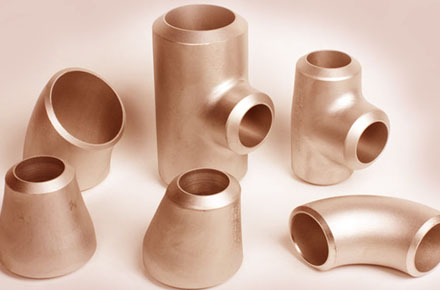 Our ASME B16.9 Cupro Nickel Buttweld Fittings are made up of Copper and Nickel as primary elements, and iron and manganese as secondary elements. Our silver colored Cupro Nickel 70/30 Buttweld Fittings exhibit great resistance towards corrosion, even in seawater. On the other hand, our Cu-Ni 90/10 Buttweld Fittings possess great tensile strength, and are ductile in nature.
All of our Cupro Nickel Buttweld Pipe Fittings types are finely finished keeping all the national and international standards in view. The gas tight Cupro Nickel Pipe Caps are used to close the open ends of pipe systems or valves. To regulate proper hydraulic flow, Copper Nickel Pipe Reducers are used to alter the size of a pipe. A Cupro Nickel Pipe Elbow is used to change the direction of a pipe to an angle of either 90° or 45°.
Our Cupro Nickel Pipe Cross, Cu-Ni Pipe Tee, and Cu-Ni Pipe End caps have various applications in electrical and petrochemical industries. Our Copper Nickel Pipe Bends and Copper Nickel Pipe Stubends are deployed in various marine and seawater systems.
DIN 2.0882 Copper Nickel Cross, Cupro Nickel 90/10 Long Radius Elbow, Copper Nickel Alloy 70/30 Stubend, Copper Nickel Nipple, Copper Nickel Cross, Copper Nickel Reducers Dealer & Wholesaler
Copper Nickel Alloy Buttweld Fitting Availability:
Seamless Copper Nickel Alloy Buttweld Fitting
Welded Copper Nickel Alloy Buttweld Fitting
Fabricated Copper Nickel Alloy Buttweld Fitting
Copper Nickel Alloy Buttweld Fitting Specifications:
| | |
| --- | --- |
| Size | 1/2" TO 6' IN OD & NB IN Various SWG & SCH |
| Specification | ASTM B122, B171, B466, B467 |
| Dimensions | ANSI/ASME B16.9, B16.28, MSS-SP-43. |
| Schedule | SCH 10, SCH20, SCH30, SCH40 |
| Types | Seamless / Welded / Fabricated |
| Grades | Copper Nickel Alloy UNS C70600, UNS C71500, Cupro Nickel (Cu-Ni) 90/10, Cupro Nickel (Cu-Ni) 70/30. |
Available Grades of Copper Nickel Alloy Buttweld Fittings
Types of Copper Nickel Alloy Buttweld Fitting
Cupro Nickel 45 Degree Elbow
Cupro Nickel Pipe Fittings
Cupro Nickel Buttweld Fitting
Cupro Nickel Eccentric Reducer
Cupro Nickel Concentric Reducer
Cupro Nickel Lateral Tee
Cupro Nickel Equal Tee
Cupro Nickel Long Stub End
Copper Alloy Short Stub End
Cupro Nickel End Cap
Cupro Nickel Bend
Cu-Ni U Bend
Copper 5D Bend
Cu-Ni 180D Bend
ASTM B366 copper Nickel Bend
Cupro Nickel Equal Cross
Cu-Ni Alloy Equal Cross
Copper Alloy Equal Cross
ANSI B16.9 WP Cupro Nickel Equal Cross
Copper Nickel Buttweld Fittings Manufacturer in India
Cu-Ni UNS C70600 Seamless Buttweld Pipe Fittings
ASTM B 466 UNS C71500 Welded Buttweld Pipe Fittings
ASME SB B467 CuproNickel 70/30 Reducing Nipple
Copper Nickel 90/10 Long & Short Stubends Stockiest
DIN 2.0882 Cu-Ni 70/30 Piggable Bends Supplier
CuproNickel Split Tees Exporter Stockiest
ANSI/ASME B16.28 Cu-Ni 90/10 Unequal Tees
DIN 2.0872 Cu-Ni C70600 Concentric Reducers
Copper Nickel 70/30 45° Elbows Supplier
Cu-Ni 90/10 Reducing Elbows Dealers
ASTM B B171 UNS C71640 Fabricated Tees
ANSI/ASME B16.9 Cu-Ni Crosses Stocks
MSS-SP-43 Copper Nickel Couplings Suppliers
Use the contact button below for Copper Nickel Alloy Buttweld Fittings Price List and Ready stock information.
Copper Nickel Alloy Buttweld Fittings Applications
| | | | |
| --- | --- | --- | --- |
| Off-Shore Oil Drilling Companies | Power Generation | Petrochemicals | Gas Processing |
| Specialty Chemicals | Pharmaceuticals | Pharmaceutical Equipment | Chemical Equipment |
| Sea Water Equipment | Heat Exchangers | Condensers | Pulp & Paper Industry |
Copper Nickel Alloy Buttweld Fittings Manufacturer & Supplier
Copper Nickel Alloy Buttweld Fittings manufacturer in india
Copper Nickel Alloy Buttweld Fittings supplier in india
Copper Nickel Alloy Buttweld Fittings manufacturer in Mumbai
Copper Nickel Alloy Buttweld Fittings manufacturer in Pune
Copper Nickel Alloy Buttweld Fittings supplier in Chennai
Copper Nickel Alloy Buttweld Fittings manufacturer in Hyderabad
Iran, Argentina, Colombia, Mexico, Africa, Houston, Brazil, Tunisia, Kazakhstan, Vietnam, London, Trinidad and Tobago, Kuwait, Canada, Iraq, Sudan, Israel, Azerbaijan, Turkey, Egypt, Australia, Dubai, Chine, United States, Italy, Saudi Arabia, UAE, Malaysia, Sri Lanka, Nigeria, South Africa, Peru, Indonesia, UK, Germany, Bahrain, New Zealand, Thailand (Bangkok), Jordan, Russia, Venezuela, Ethiopa, Ghana, Uganda, Cameroon, Algeria, Morocco, Mozambique, Angola, Qatar, Yemen, Oman, Lebanon, Cyprus, Johannesburg, Brazzaville, Cairo, Maputo, Lagos, Douala, Tripoli, Mogadishu, Khartoum, Port Harcourt, Antananarivo, Port Elizabeth, Kano, New York, Abu Dhabi, Dar es Salaam, Benin, Kampala, Luanda, Conakry, Rabat, Bulawayo, Cape Town, Alexandria, Fez, Ouagadougou, Mbuji-Mayi, Soweto, Singapore, Dakar, Omdurman, Hong Kong, Zaria, Lubumbashi, Kinshasa, Harare, Abidjan, Yaoundé, Addis Ababa, Giza, Algiers, Accra, Colombo, Kaduna, Maiduguri, Nairobi, Casablanca, Pretoria, Kolwezi, Subra al-Haymah, Durban, Freetown, Bamako, Ibadan, South America, Austalia, Austria, Bangladesh, Mozabique, Myanmar, Netherland, Phillipine, Spain, Jordon.
Bangalore, Hyderabad, Ahmedabad, Chennai, Suryapet, Jamalpur, Bhiwadi, Ballia, Ambala, Sadar, Udgir, Miryalaguda, Bansberia, Mumbai, India, Maharashtra, Delhi, Karnataka, Andhra Pradesh, Kerala, Tripura, Benin, Puducherry, Mizoram, Manipur, Tadepalligudem, Betul, Nagapattinam, Bundi, Baraut, Buxar, Muktsar, Kolkata, Surat, Pune, Jaipur, Lucknow, Kanpur, Nagpur, Indore, Thane, Bhopal, Visakhapatnam, Pimpri and Chinchwad, Patna, Vadodara, Ghaziabad, Ludhiana, Agra, Nashik, Faridabad, Meerut, Rajkot, Gujarat, Tamil Nadu, West Bengal, Gujarat, Bihar, Rajasthan, Uttar Pradesh, Punjab, Haryana, Madhya Pradesh, Jharkhand, Chhattisgarh, Assam, Chandigarh, Orissa, Kalyan, Dombivali, Vasai, Coimbatore, Jabalpur, Gwalior, Vijayawada, Jodhpur, Madurai, Bhadreswar, Kasganj, Kalyani, Nagaur, Port, Blair, Datia, Hinganghat, Banswara, Nagda, Raipur, Kota, Guwahati, Solapur, Hubli and Dharwad, Virar, Varanasi, Srinagar, Aurangabad, Dhanbad, Amritsar, Navi Mumbai, Allahabad, Ranchi, Haora, Ulhasnagar, Jhansi, Kolapur, Ajmer, Akola, Durgapur, Nanded, Gorakhpur, Belgaum, Mangalore, Ambattur, Tirunelveli, Saharanpur, Guntur, Bikaner, Amravati, Kurnool, Bhavnagar, Dehradun, Asansol, Waghala, Gulbarga, Jamnagar, Ujjain, Loni, Siliguri.