Stainless Steel Pipe Reducer Stockists, ANSI B16.9 SS Pipe Reducer Supplier, Stainless Steel Buttweld Reducer, ASME B16.25 Stainless Steel 304 Pipe Reducer, SS 316 Reducer Pipe Fittings Manufacturer
Leading Dealer & Exporter of ASTM A403 Stainless Steel Concentric / Eccentric Reducer, DIN 1.4301 / 1.4401 SS Buttweld Pipe Reducer, Stainless Steel UNS S30400 / S31600 Pipe Reducer Fittings in India
Pipe reducers, a kind of pipe fitting that join two or more pipes are manufactured and supplied with Ace Alloys LLP. SS Pipe Reducers are soft and ductile and, even when cooled rapidly. Our reducers have high strength and corrosion resistance. The increased wall thickness provides added durability and is less prone to cracking due to thermal stress for gas temperatures.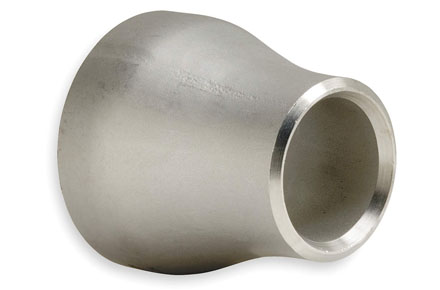 The size ranges from ½" to 36"+. Also, the high-quality reducers come in a variety of schedules varying from S/5 to S/80. We carry a line of 304 / 304L, 316 / 316 L butt weld reducers meeting your set standards. Reducers also conform to ASTM B 16.9 are corrosion resistant and highly durable.
ASME B16.9 butt weld concentric reducers, join the tube section on the same axis. They also connect pipes of unequal sizes that have a common centreline. ANSI B 16.28 butt weld eccentric reducers are also called 'bell reducers'. They have two inside threads of different sizes with centers so designed that when they join, the two are not in line, however, can be installed. This is in order to provide optimum drainage gauge of the line.
SS Pipe Reducers can be applied to power generation, pharmaceutical, paper and other big and small scale industries. Pipe reducers are widely used to provide the greatest connection flexibility in connecting fractional tubes in a variety of installations.
Contact us for more information, as we provide you details as per your specifications.
Stainless Steel Reducer Availability:
Butt Weld Concentric Reducer Buttweld Fitting
Seamless Concentric Reducer Buttweld Fitting
Welded Concentric Reducer Buttweld Fitting
ERW Concentric Reducer Buttweld Fitting
Fabricated Concentric Reducer Buttweld Fitting
Stainless Steel Reducer Specifications:
| | |
| --- | --- |
| Standards | ANSI – B 16.9, ASTM A403 – ASME SA403 – 'Standard Specification for Wrought Austenitic Stainless Steel Piping Fittings', API 590-605, ASME B16.9 – 'Factory-Made Wrought Buttwelding Fittings", ASME B16.25 – 'Buttwelding Ends', ASME B16.28 – 'Wrought Steel Buttwelding Short Radius Elbows and Returns', MSS SP-43 – 'Wrought and Fabricated Butt-Welding Fittings for Low Pressure, Corrosion Resistant Applications' |
| Schedule | Sch 5 TO Sch XXS. |
| Sizes | 1/2"NB TO 48"NB IN / 1/2" TO 36", (SEAMLESS UPTO 24"), (WELDED 8" TO 36" ) |
| Materials | Stainless Steel ASME / ASTM SA / A403 SA / A 774 WP-S, WP-W, WP-WX, 304, 304L, 316, 316L, 304/304L, 316/316L, DIN 1.4301, DIN1.4306, DIN 1.4401, DIN 1.4404 |
| Type | Butt Weld (BW) / Seamless / ERW / Welded / Fabricated |
| Thickness | Schedule 5S, 10S, 20S, S10, S20, S30, STD, 40S, S40, S60, XS, 80S, S80, S100, S120, S140, S160, XXS and etc. |
| Dimension | ANSI B16.9, ANSI B16.28, MSS-SP-43 Type A, MSS-SP-43 Type B, JIS B2312, JIS B2313 |
Stainless Steel Reducer Material & Grades
Stainless Steel Buttweld Concentric Reducer
ASTM A403 WP316/316L, ASTM A403 SA / A 774 WP-S, WP-W, WP-WX 304/304L, ASTM A182 F316L, 304L, DIN 1.4301, DIN1.4306, DIN 1.4401, DIN 1.4404
Types of Stainless Steel Reducer
304 Stainless Steel Reducer
304L Stainless Steel Reducer
316TI Stainless Steel Reducer
316H Stainless Steel Reducer
316L Stainless Steel Reducer
316LN Stainless Steel Reducer
Stainless Steel Buttweld Reducer
304H Stainless Steel Reducer
316 Stainless Steel Reducer
Stainless Steel Reducer
Steel Reducer Pipe Fittings
SS Concentric Reducers
Buttweld Concentric Reducer
Butt Weld Pipe Reducers
Concentric Reducer Buttweld Fitting Available Standards
ASTM A403 Stainless Steel Concentric Reducers
Other Standards of Concentric Reducer Buttweld Fitting
SCH10 Reducer
SCH20 Reducer
SCH30 Reducer
STD SCH40 Reducer
DIN 1.4301 Reducer
DIN 1.4307 Reducer
DIN 1.4948 Reducer
DIN 1.4401 Reducer
DIN 1.4404 Reducer
DIN 1.4571 Reducer
SCH60 Reducer
SCH XS Reducer
SCH80. Reducer
DIN 2605 Reducer
DIN 2609 Reducer
DIN 2617 Reducer
EN 10253-3 Reducer
A403 Gr WP304 Reducer
A403 Gr WP 304L Reducer
A403 Gr WP316Ti Reducer
UNS S30400 Reducer
UNS S30403 Reducer
UNS S30409 Reducer
UNS S31600 Reducer
UNS S31603 Reducer
UNS S31609 Reducer
UNS S31635 Reducer
A403 Gr WP316 Reducer
A403 Gr WP316L Reducer
SCH160 Reducer
DIN 2615 Reducer
DIN 2616 Reducer
Use the contact button below for Stainless Steel Reducer Price List and Ready stock information.
Stainless Steel Reducer Applications
| | | | |
| --- | --- | --- | --- |
| Off-Shore Oil Drilling Companies | Power Generation | Petrochemicals | Gas Processing |
| Specialty Chemicals | Pharmaceuticals | Pharmaceutical Equipment | Chemical Equipment |
| Sea Water Equipment | Heat Exchangers | Condensers | Pulp & Paper Industry |
Stainless Steel Reducer Manufacturer & Supplier
Stainless Steel Reducer manufacturer in india
Stainless Steel Reducer supplier in india
Stainless Steel Reducer manufacturer in Mumbai
Stainless Steel Reducer manufacturer in Pune
Stainless Steel Reducer supplier in Chennai
Stainless Steel Reducer manufacturer in Hyderabad
Iran, Argentina, Colombia, Mexico, Africa, Houston, Brazil, Tunisia, Kazakhstan, Vietnam, London, Trinidad and Tobago, Kuwait, Canada, Iraq, Sudan, Israel, Azerbaijan, Turkey, Egypt, Australia, Dubai, Chine, United States, Italy, Saudi Arabia, UAE, Malaysia, Sri Lanka, Nigeria, South Africa, Peru, Indonesia, UK, Germany, Bahrain, New Zealand, Thailand (Bangkok), Jordan, Russia, Venezuela, Ethiopa, Ghana, Uganda, Cameroon, Algeria, Morocco, Mozambique, Angola, Qatar, Yemen, Oman, Lebanon, Cyprus, Johannesburg, Brazzaville, Cairo, Maputo, Lagos, Douala, Tripoli, Mogadishu, Khartoum, Port Harcourt, Antananarivo, Port Elizabeth, Kano, New York, Abu Dhabi, Dar es Salaam, Benin, Kampala, Luanda, Conakry, Rabat, Bulawayo, Cape Town, Alexandria, Fez, Ouagadougou, Mbuji-Mayi, Soweto, Singapore, Dakar, Omdurman, Hong Kong, Zaria, Lubumbashi, Kinshasa, Harare, Abidjan, Yaoundé, Addis Ababa, Giza, Algiers, Accra, Colombo, Kaduna, Maiduguri, Nairobi, Casablanca, Pretoria, Kolwezi, Subra al-Haymah, Durban, Freetown, Bamako, Ibadan, South America, Austalia, Austria, Bangladesh, Mozabique, Myanmar, Netherland, Phillipine, Spain, Jordon.
Bangalore, Hyderabad, Ahmedabad, Chennai, Suryapet, Jamalpur, Bhiwadi, Ballia, Ambala, Sadar, Udgir, Miryalaguda, Bansberia, Mumbai, India, Maharashtra, Delhi, Karnataka, Andhra Pradesh, Kerala, Tripura, Benin, Puducherry, Mizoram, Manipur, Tadepalligudem, Betul, Nagapattinam, Bundi, Baraut, Buxar, Muktsar, Kolkata, Surat, Pune, Jaipur, Lucknow, Kanpur, Nagpur, Indore, Thane, Bhopal, Visakhapatnam, Pimpri and Chinchwad, Patna, Vadodara, Ghaziabad, Ludhiana, Agra, Nashik, Faridabad, Meerut, Rajkot, Gujarat, Tamil Nadu, West Bengal, Gujarat, Bihar, Rajasthan, Uttar Pradesh, Punjab, Haryana, Madhya Pradesh, Jharkhand, Chhattisgarh, Assam, Chandigarh, Orissa, Kalyan, Dombivali, Vasai, Coimbatore, Jabalpur, Gwalior, Vijayawada, Jodhpur, Madurai, Bhadreswar, Kasganj, Kalyani, Nagaur, Port, Blair, Datia, Hinganghat, Banswara, Nagda, Raipur, Kota, Guwahati, Solapur, Hubli and Dharwad, Virar, Varanasi, Srinagar, Aurangabad, Dhanbad, Amritsar, Navi Mumbai, Allahabad, Ranchi, Haora, Ulhasnagar, Jhansi, Kolapur, Ajmer, Akola, Durgapur, Nanded, Gorakhpur, Belgaum, Mangalore, Ambattur, Tirunelveli, Saharanpur, Guntur, Bikaner, Amravati, Kurnool, Bhavnagar, Dehradun, Asansol, Waghala, Gulbarga, Jamnagar, Ujjain, Loni, Siliguri.