Threaded Flanges Manufacturer & Supplier
ANSI B 16.5, ASME B 16.47, MSS SP44, ASTM A182, 105, 350 Threaded Flanges / Screwed Pipe Flanges Manufacturer & Exporter in India
Stainless Steel Threaded Flanges, Carbon Steel Threaded Flanges, Alloy Steel Threaded Flanges, Nickel Alloy Weld Threaded Flanges, Monel Threaded Flanges, Hastelloy Threaded Flanges Dealer in India
Threaded flanges consist of tapered threads and are used along with externally threaded valves and pumps. ACE ALLOYS LLP is an eminent manufacturer and trader of Threaded Pipe Flanges which also known as screwed flanges at affordable prices. Our Raised Face Threaded Flanges attract a huge number of customers for their economic prices. Due to the distinguished properties of our Threaded Pipe Flanges, they have colossal demand in the market.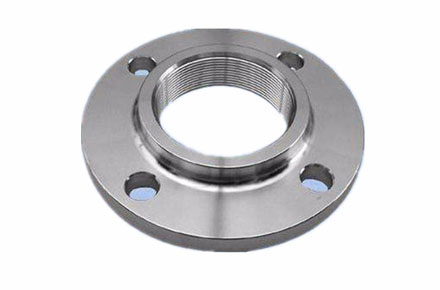 Our ANSI B 16.5 Threaded Flanges are widely used for high pressure and fewer diameter purposes. On the other hand, our ASME B 16.48 Threaded Flanges can be connected to pipes without welding. Our DIN Threaded Flanges have various industrial applications for which they are exported to many countries across the world.
We finally finish our Raised Face Threaded Flanges keeping all the national and international standards in view. Our Stainless Steel Threaded Flanges are famous for their easy installation and long-lasting nature. As per our client's requirement, we design customized Carbon Steel Threaded Flanges of all sizes and shapes.
We carefully design our Inconel Threaded Flanges with extreme dimensional accuracy. We hire well experienced and trained professionals who are skilful in designing Monel Threaded Flanges using latest design techniques. All of our raw materials are lent by honest vendors to fabricate flawless Forged Threaded Flanges.
Properties and features of all our products along with their respective prices are showcased on our official website. Special offers and discounts are also laid on some goods. Hurry up and place your order right now!
Threaded Flanges Availability:
Flate Face Threaded Flanges
Raised Face Threaded Flanges
Ring Type Joint Threaded Flanges
Stainless Steel Threaded Flanges
Carbon Steel Threaded Flanges
Alloy Steel Threaded Flanges
Nickel Alloy Steel Threaded Flanges
Copper Alloy Threaded Flanges
Duplex Steel Threaded Flanges
Threaded Flanges Specifications:
| | |
| --- | --- |
| Size | ½" (15 NB) to 48" (1200NB) |
| Class | 150 LBS, 300 LBS, 600 LBS, 900 LBS, 1500 LBS, 2500 LBS, DIN Standard ND-6,10, 16, 25, 40 Etc. |
| Standards | ANSI B16.5, ANSI B16.47, MSS SP44, ANSI B16.36, ANSI B16.48 |
| DIN | DIN2527, DIN2566, DIN2573, DIN2576, DIN2641, DIN2642, DIN2655, DIN2656, DIN2627, DIN2628, DIN2629, DIN 2631, DIN2632, DIN2633, DIN2634, DIN2635, DIN2636, DIN2637, DIN2638, DIN2673 |
| B.S | BS4504 , BS4504, BS1560, BS10 |
| Flange Face Type | Flate Face (FF), Raised Face (RF), Ring Type Joint (RTJ) |
| Coating/Surface Treatment | Anti-rust Paint, Oil Black Paint, Yellow Transparent, Zinc Plated, Cold and Hot Dip Galvanized |
Grade specifications of Threaded Flanges
Stainless Steel Threaded Face Flanges
Standard
ASTM A182 , A240
Grades
F 304, 304L, 304H, 316, 316Ti, 316H, 316L, 316LN, 309S, 309H, 310S, 310H,317, 317L, 321, 321H, 347, 347H, 201, 202, 904L
Carbon Steel Threaded Face Flanges
Standard
ASTM A105
Grades
Gr. F42,46,52,56,60,65,70
Alloy Steel Threaded Face Flanges
Standard
ASTM A182
Grades
F1,F5,F9,F11,F22,F91
Nickel Alloy Steel Threaded Face Flanges
Standard
ASTM SB564, SB160, SB472, SB162
Grades
Nickel 200 (UNS No. N02200), Nickel 201 (UNS No. N02201), Monel 400 (UNS No. N04400), Monel 500 (UNS No. N05500), Inconel 800 (UNS No. N08800), Inconel 825 (UNS No. N08825), Inconel 600 (UNS No. N06600), Inconel 625 (UNS No. N06625), Inconel 601 (UNS No. N06601), Hastelloy C 276 (UNS No. N10276), Alloy 20 (UNS No. N08020),
Copper Alloy Threaded Face Flanges
Standard
ASTM SB 61 , SB62 , SB151 , SB152
Grades
UNS No. C 70600 (Cu-Ni 90/10), C 71500 (Cu-Ni 70/30), UNS No. C 10100, 10200, 10300, 10800, 12000, 12200,
Duplex Steel Slip-On Face Flanges
Standard
ASTM A182, A240
Grades
UNS F 44, F 45, F51, F 53, F 55, F 60, F 61
Threaded Flange Dimensions
Class
150
300
400
600
900
1500
2500
Diameter - A
30
38
38
38
38
38
43
Diameter - D
90
95
95
95
120
120
135
Thickness - B
9.6
12.7
14.3
14.3
22.3
22.3
30.2
11.2
14.3
20.7
20.7
28.7
28.7
36.6
Diameter - G
35.1
35.1
35.1
35.1
35.1
35.1
35.1
Diameter - K
60.3
66.7
66.7
66.7
82.6
82.6
88.9
Height - H
14
21
22
22
32
32
40
15.6
22.6
28.4
28.4
38.4
38.4
46.4
Bolt Holes
4
4
4
4
4
4
4
Diameter - L
15.9
15.9
15.9
15.9
22.2
22.2
22.2
Stud Bolts Diameter x Length
Diameter (in)
1/2
1/2
1/2
1/2
3/4
3/4
3/4
Length (mm)
55
65
75
75
110
110
120
Types of Threaded Flanges
Industry Standard Class 75 Threaded Flanges
Industry Standard Class 150 Threaded Flanges
Industry Standard Class 175 Threaded Flanges
Industry Standard Class 250 Threaded Flanges
Industry Standard Class 300 Threaded Flanges
Industry Standard Class 350 Threaded Flanges
Plate Threaded Flanges
Ring Type Joint Threaded Flanges
Drawing Threaded Flanges
Square Threaded Flanges
Nipo Threaded Flanges
Reducing Threaded Flanges
Forged Threaded Flanges
Stainless Steel Threaded Flanges
Industry Standard Class 125 Light-weight Threaded Flanges
Industry Standard Class 125/150 Threaded Flanges
Other Standards of Threaded Flanges
ANSI B16.5 Threaded Flanges
ANSI B16.5 Class 150 Threaded Flanges
ANSI B16.5 Class 300 Threaded Flanges
ANSI B16.5 Class 400 Threaded Flanges
ANSI B16.5 Class 600 Threaded Flanges
ANSI B16.5 Class 900 Threaded Flanges
ANSI B16.5 Class 1500 Threaded Flanges
ANSI B16.5 Class 2500 Threaded Flanges
ASME B16.47 Series A Threaded Flanges
ASME B16.47 Series B Threaded Flanges
ANSI B16.36 Orifice Threaded Flanges
150Lbs Threaded Flanges
300Lbs Threaded Flanges
600Lbs Threaded Flanges
900Lbs Threaded Flanges
1500Lbs Threaded Flanges
2500Lbs Threaded Flanges
DIN Threaded Flanges PN6-PN40
For Threaded Flanges price list as on :
Request the latest Threaded Flanges Price List. Use the contact button below for Threaded Flanges Ready stock information and updated price list.
Threaded Flanges Applications
| | | | |
| --- | --- | --- | --- |
| Off-Shore Oil Drilling Companies | Power Generation | Petrochemicals | Gas Processing |
| Specialty Chemicals | Pharmaceuticals | Pharmaceutical Equipment | Chemical Equipment |
| Sea Water Equipment | Heat Exchangers | Condensers | Pulp & Paper Industry |
Threaded Flanges Manufacturer & Supplier
Threaded Flanges manufacturer in india
Threaded Flanges supplier in india
Threaded Flanges manufacturer in Mumbai
Threaded Flanges manufacturer in Pune
Threaded Flanges supplier in Chennai
Threaded Flanges manufacturer in Hyderabad
Iran, Argentina, Colombia, Mexico, Africa, Houston, Brazil, Tunisia, Kazakhstan, Vietnam, London, Trinidad and Tobago, Kuwait, Canada, Iraq, Sudan, Israel, Azerbaijan, Turkey, Egypt, Australia, Dubai, Chine, United States, Italy, Saudi Arabia, UAE, Malaysia, Sri Lanka, Nigeria, South Africa, Peru, Indonesia, UK, Germany, Bahrain, New Zealand, Thailand (Bangkok), Jordan, Russia, Venezuela, Ethiopa, Ghana, Uganda, Cameroon, Algeria, Morocco, Mozambique, Angola, Qatar, Yemen, Oman, Lebanon, Cyprus, Johannesburg, Brazzaville, Cairo, Maputo, Lagos, Douala, Tripoli, Mogadishu, Khartoum, Port Harcourt, Antananarivo, Port Elizabeth, Kano, New York, Abu Dhabi, Dar es Salaam, Benin, Kampala, Luanda, Conakry, Rabat, Bulawayo, Cape Town, Alexandria, Fez, Ouagadougou, Mbuji-Mayi, Soweto, Singapore, Dakar, Omdurman, Hong Kong, Zaria, Lubumbashi, Kinshasa, Harare, Abidjan, Yaoundé, Addis Ababa, Giza, Algiers, Accra, Colombo, Kaduna, Maiduguri, Nairobi, Casablanca, Pretoria, Kolwezi, Subra al-Haymah, Durban, Freetown, Bamako, Ibadan, South America, Austalia, Austria, Bangladesh, Mozabique, Myanmar, Netherland, Phillipine, Spain, Jordon.
Bangalore, Hyderabad, Ahmedabad, Chennai, Suryapet, Jamalpur, Bhiwadi, Ballia, Ambala, Sadar, Udgir, Miryalaguda, Bansberia, Mumbai, India, Maharashtra, Delhi, Karnataka, Andhra Pradesh, Kerala, Tripura, Benin, Puducherry, Mizoram, Manipur, Tadepalligudem, Betul, Nagapattinam, Bundi, Baraut, Buxar, Muktsar, Kolkata, Surat, Pune, Jaipur, Lucknow, Kanpur, Nagpur, Indore, Thane, Bhopal, Visakhapatnam, Pimpri and Chinchwad, Patna, Vadodara, Ghaziabad, Ludhiana, Agra, Nashik, Faridabad, Meerut, Rajkot, Gujarat, Tamil Nadu, West Bengal, Gujarat, Bihar, Rajasthan, Uttar Pradesh, Punjab, Haryana, Madhya Pradesh, Jharkhand, Chhattisgarh, Assam, Chandigarh, Orissa, Kalyan, Dombivali, Vasai, Coimbatore, Jabalpur, Gwalior, Vijayawada, Jodhpur, Madurai, Bhadreswar, Kasganj, Kalyani, Nagaur, Port, Blair, Datia, Hinganghat, Banswara, Nagda, Raipur, Kota, Guwahati, Solapur, Hubli and Dharwad, Virar, Varanasi, Srinagar, Aurangabad, Dhanbad, Amritsar, Navi Mumbai, Allahabad, Ranchi, Haora, Ulhasnagar, Jhansi, Kolapur, Ajmer, Akola, Durgapur, Nanded, Gorakhpur, Belgaum, Mangalore, Ambattur, Tirunelveli, Saharanpur, Guntur, Bikaner, Amravati, Kurnool, Bhavnagar, Dehradun, Asansol, Waghala, Gulbarga, Jamnagar, Ujjain, Loni, Siliguri.